What can I say about the Rio Grande Valley? It's the place where I began this journey in life. It's where I forged lifelong relationships, and where my roots are embedded. No matter where I find myself living or traveling to, the Rio Grande Valley will always be home to me. The best part of the Rio Grande Valley are the people and incredible culture that surrounds us. I consider myself incredibly fortunate to be able to have the pleasure of capturing amazing images of the citizens of this great southern section of Texas.

The Magic of the RGV
I tend to travel for a lot of my photography work, and in all of my excursions I've realized that the Valley really is a magical place. I am convinced that we are not just one of the most culturally attuned areas in the United States (Latin culture is amazing), have the best food (Tex Mex and BBQ for the win) and some of the most stunning sunsets I have ever seen, but we're also one of the fastest growing areas in the nation. The area is expanding. More large and small businesses are taking root here, which contrary to popular belief means we must be thriving.  I myself live in McAllen and offer my services to the entire RGV, but mostly shoot in surrounding cities like Mission, Pharr, Edinburg and one of my favorite places South Padre Island. Where else can you find the rich golden hues of the mainland, green farming pastures, historical missions and landmarks, the serene ocean blue of an amazing island and even the stillness of white salt flats all in one area? There's no other place like it.
 
My Photography Genesis
Just to give you a sense of where I come from in my photographic journey I should start from the beginning. Throughout my high school years I worked on the yearbook staff as a staff photographer. (Both at Nikki Rowe High School and Mission High School.) Mrs. Dina Wilson (my journalism teacher at MHS) was the person who actually introduced me to photography. She taught me the basics of film photography in 1997. I learned how to shoot on film and how to properly develop in the darkroom. Her instruction and guidance has been absolutely fundamental in my career choice. I got to shoot some amazing football (we love high school football in the RGV) and other sporting games, but what I really fell in love with was shooting photos of my fellow peers. I particularly remember enjoying being a sneaky little ninja and catching them unawares much to their annoyance.
Fast forward ten years later… I had dropped photography as a hobby and had just moved back to McAllen with my two young daughters. I had lived in California (Mira Mesa), Louisiana (Breaux Bridge and Houma) and Georgia (Atlanta) during my absence; and while those states were breathtaking in scenery it just wasn't home. I missed the culture, the food (no raspa or elote stands in Louisiana) and even the music… okay well maybe I didn't miss the music that much, but every time I heard cumbia or tejano on the radio I would get a little homesick. Once I returned, my wonderful other-half, William (also a photographer and videographer) convinced me that I should return to photography as a possible career choice. He bought my first camera (a Canon 60D) and helped me by pushing me during those early days of learning digital photography by assisting me during late nights of shooting cupcakes (CCs Cupcakes), HEB sushi, Fuzziwigs candy, mutual friends at the McAllen Convention Center and forcing me to learn all the basics of Photoshop. Thank you darling for the much needed push, I am forever in your debt!
In 2012 I was picked up by the delRio Ad Agency in McAllen (the largest ad agency in the Valley at the time) and was made their full time in-house photographer. My skills exponentially grew and I learned how to shoot real estate, product, food (Kumori Sushi being a favorite of mine), corporate headshots, city tourism campaigns and even artist album covers (for Duelo). It really rounded me out as a commercial photographer and I still use those skills to this day, but I was still missing something in my photography repertoire… portraits.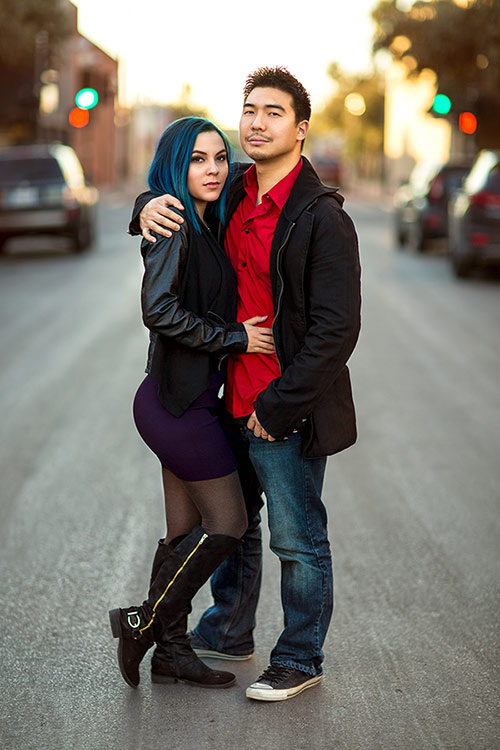 I decided in late 2014 that I wanted to shift some of my focus to portraits, especially those shot using natural light. The Rio Grande Valley has some amazing light. Yes, I admit that we have immense heat and humidity to go along with it, but the golden hour (as photographers like to call that last bit of sun before it dips down the horizon) is incredibly rich and vibrant. I'm not too fond of cold weather anyways. With some help from a few industry friends that I have made during my time blogging for sites like Fstoppers and Retouching Academy I gained enough courage to let myself be comfortable shooting portraiture with just the power of the sun.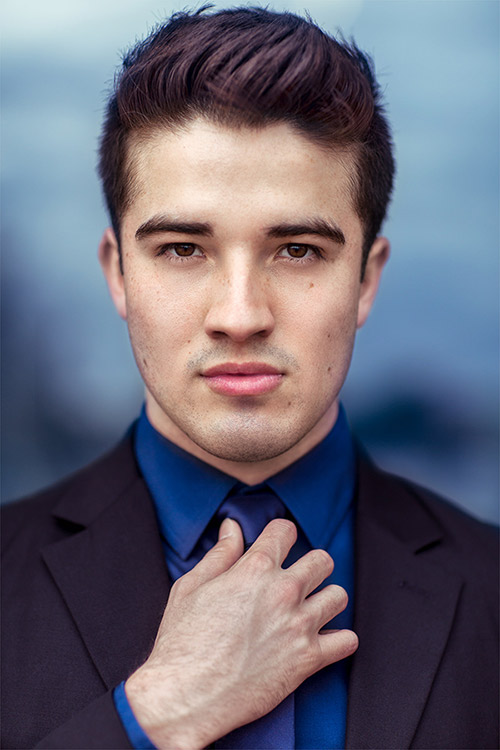 My Distinct Factor
I love connecting with people. I am definitely a people person. Maybe it's the Leo in me? When I shoot portraits I get to relate to people one on one and what's great about shooting with natural light is that there are no distractions… no bright blinding lights, or clunky equipment to get in my way. I'll never completely step away from my studio lights, but it is a relief to have the ability to shed them when I want. I love walking around during a session and telling jokes or finding out what subjects my clients are interested in and chatting about them. After all portrait photography is all about capturing the essence of that person. As a portrait photographer you have to learn very quickly what makes your client happy, what makes them thoughtful, peaceful or even outright jubilant. It's my job to bring those emotions to the surface and capture them. I want to see you as a client not just pretend to smile for my camera and lens, but to genuinely be excited about your photoshoot experience. I want to see your smile reach your eyes.
What I think makes me stand out from other RGV portrait photographers is probably my post-processing. I love Photoshop and I love to retouch my images. Retouching can quickly become a dirty word with 'fakeness' or 'simulation' attached to it, but I have never seen Photoshop as a way to reach perfection. I am not perfect, and I don't ever aim to be. It's beyond unrealistic. I love to use Photoshop as a way to bring the best out of any photo that I shoot, though. I want to be creative and vibrant. I want to create art. If you go through my portfolio you'll notice one uniting factor of my work… COLOR. I love working with colors and contrast. I like to think of my portrait work being fairly consistent and I think that's really important to look for in hiring a photographer.  So, if you want photos that are bright, colorful and expressive then I'm probably a great fit for you.
What the Future Has in Store
As I begin to fully embrace my interest and love of portrait photography I'd like to start opening my business to new niches of portraits. High school and college seniors are at the top of my list. I am also opening myself up to shooting sessions for children (older than 5) engagements and brides. I am also completely open to hearing any requests for sessions that I don't typically shoot. I try to be as accommodating as possible while also being very affordable. Who knows what the next few years will bring as my journey into professional photography forges on? All I know is that my home and love is here, deep in the heart of Texas.
-Rebecca Britt
Rio Grande Valley Portrait and Commercial Photographer (McAllen, TX) 956.309.9816
Tagged as: